In light of new evidence, IncelTear moderator and creator of the Prove the Incel Wrong! comic series and subreddit of the same name, AdvocateDoogy, has been removed from moderator ship and permanently banned from the IncelTear subreddit over allegations of grooming and blackmail following an investigative report.
These allegations have been floating around for months, but the mods at IncelTear failed to act when these allegations were brought up in the past.
Most recently, a woman AdvocateDoogy spoke to discovered these allegations against him and subsequently blocked him. In addition, he allegedly banned them from the IncelTear subreddit with the reason, "Start talking, or you won't be posting here anymore," presumably in response to the block.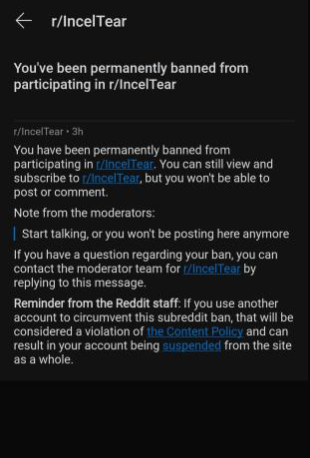 There is also evidence of people being banned for bringing up the allegations. One such case of moderator abuse, allegedly by AdvocateDoogy, can be found below: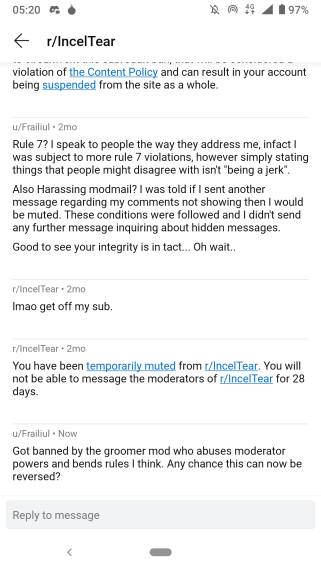 The Reaction
The reaction is mixed on the IncelTear post announcing the removal, with one commenter saying, "Wow, i thought it was incel lies," with the same commenter later saying, "dismissing an incel is kinda natural. They are inherently untrustworthy."
There are other comments on the post that are shocked by the allegations. One commenter says the "Difference being when it's revealed the grooming mod gets kicked out, whereas incel.co would probably kick someone out for objecting to grooming a 13 year old," with another commenter responding by saying that members from the said forum are responsible for making people aware of the situation and that this has been reported to the moderators for months.
Still, it was ignored until it was "public and socially acceptable to denounce the mod." They also mentioned that IncelTear "enabled an abuser while some incel worked really hard to take him down."
The Conclusion
It's essential to give the IncelTear mods credit for taking this action. It is not always easy to remove someone involved in alleged grooming and blackmail, but people should always be commended for doing the right thing.
It is unclear if AdvocateDoogy will continue running his comic series or the Discord server. Fortunately, he appears to be barred entirely from the IncelTear community.
Note: To report online child sexual exploitation, child grooming, and other potentially illegal activities, use the electronic Cyber Tip Line or call 1-800-843-5678. You should also reach out to local law enforcement and Child Protective Services.